by Jacque "Jack" Merlot
March 3, 2022

PLEASE NOTE: Any underlined statement is a hyperlink to reference material. Just click on the line and the reference page will pop up. The intention of this article is to tell the truth about Chippendales and it is not intended to harm Mr Nahin. Great care has been taken to double check the facts and use documented research. This article has been vetted by legal professionals.
Nahin's Unsubstantiated Wikipedia Claims
Is Bruce Nahin a fake Chippendales co-founder? We were trying to figure out who is Bruce Nahin and why is he claiming to be the co-founder of Chippendales when the real founder, Steve Banerjee has already been established.
Bruce Nahin claims to be a film producer. Mr Nahin also claims to be the co-founder of the iconic Chippendales. For years, Mr Nahin was a Los Angeles attorney who later changed his role with Chippendales on Wikipedia. Starting in 2008, Mr Nahin made multiple unverified claims (6) on Wikipedia. (8) Sometimes Mr Nahin seems to be a comedy creator who takes credit without proof for inspiring the famous Patrick Swayze SNL parody on Chippendales. (7) In 2013, Mr Nahin claims he conceived the SNL comedy riding horseback with the late Mr Swayze on Mr Nahin's horse ranch.
Other times, Mr Nahin claims to be a Chippendales co-founder, responsible for the name and trademark. Mr Nahin even inserts his IMDb link. The link was removed by Wikipedia because their web site is not for self-promotion. (4) And Wikipedia already states Mr Banerjee is the founder of Chippendales. (12) So why does Mr Nahin keep making false claims about his role at Chippendales? Is he really the co-founder?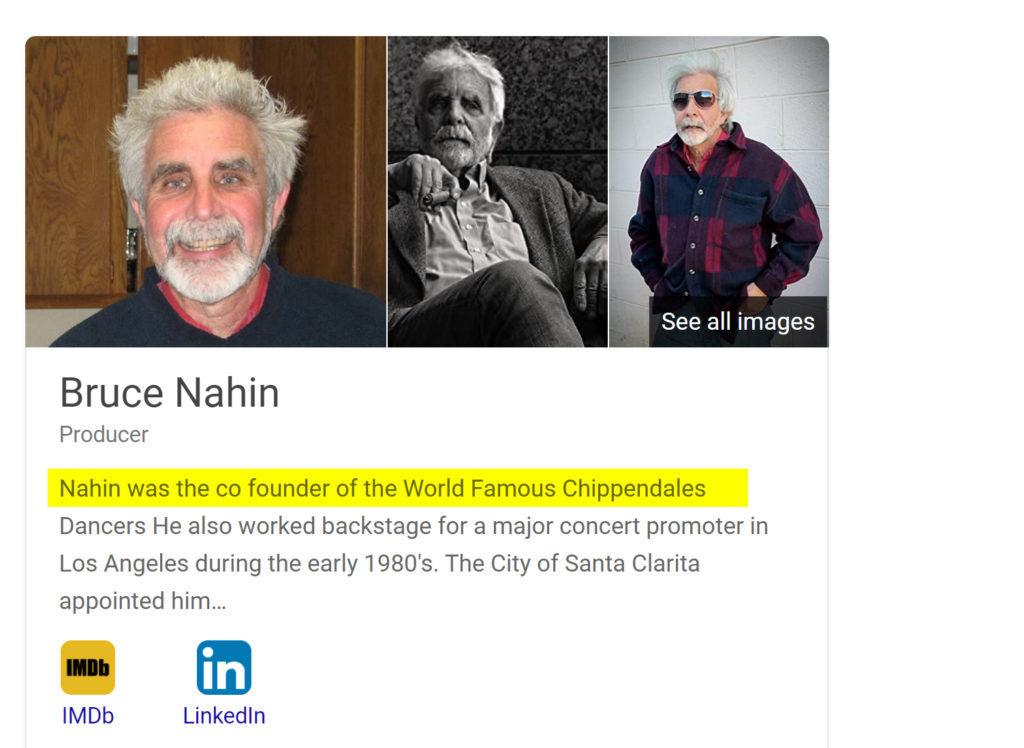 Wikipedia Closes Chippendales Page
Because the Chippendales Wikipedia page has been tampered with so often by Mr Nahin and others, it is now restricted due to "continual vandalism" and "disruptive editing". Sometimes, Mr Nahin would make 10 or more changes in one night adding his name next to Chippendales founder, Steve Banerjee. Wikipedia prohibits editors from misusing their web site out of "conflict of interest" for "self-promotion". In other words, you cannot misuse a trusted encyclopedia website to hype your career with false claims. Wikipedia calls personal statements "original research" i.e., bogus.
Because the most recent editorial tampering incident with Mr Nahin occurred in February 2022, Wikipedia again closed the page for a year. All of this begged a set of questions: Why are there no photographs, witnesses, press reports or citations supporting Mr Nahin's various Chippendales claims? And why did Mr Nahin persist in misusing the Wikipedia Chippendales page adding his name for self-promotion for so many years? And was Mr Nahin really a lawyer for Chippendales?
Nahin: "L.A.'s Corrupt Lawyer"
According to Mr Nahin, before he was a film producer, he became Steve Banerjee's lawyer after living next door to the nightclub as a law student when Mr Banerjee bought the club in 1977 although we could find no public record of this. But Mr Nahin was only a lawyer until 2004, when as reported by the L.A. Times (2), Mr Nahin was convicted (9)(11) for a multi-million-dollar, felony embezzlement scam that stole millions from elderly people to buy expensive horses.
Nahin's Two Million Dollar Swindle
In 2003 the L.A. Times wrote, "From 1998 to 2000, Nahin, 50, swindled nearly $2 million from nine clients, including two elderly women who lost their life savings." And according to the L.A. Times in 2003, Mr Nahin was one of L.A.'s corrupt lawyers. (10) When arrested it was reported Mr Nahin had only eight dollars in his bank account and the horses on the ranch were dying of malnourishment too feeble to sell for restitution. Whereas Mr Nahin is no longer an attorney, could he still be the co-founder of Chippendales?
Nahin Changes His Story 20 Years Later
In a 1998 British documentary "Chippendales – A Secret History", four years after Mr Banerjee's death, Bruce Nahin states that he was just "Banerjee's former lawyer". Mr Nahin never claims to be a Chippendales co-founder. 20 years later, in a 2018 NBC/Oxygen TV show "Mysteries & Scandals", Mr Nahin changes his role to attorney and co-founder. According to startups.com: A founder is someone who comes up with an idea and transforms the business (existing in this case) in a new direction. Co-founder implies an equal relationship with Mr Banerjee in ownership and decision making, when in fact Mr Nahin was hired only as a lawyer to handle Mr Banerjee's legal issues. Documents still show Steve Banerjee was 100% owner of Chippendales having formed a California corporation when he owned gas stations. It was always Banerjee's nightclub.
One Record of Nahin During Chippendales
And the fact Mr Banerjee was the founder of Chippendales was published multiple times upon his 1994 death. There are also countless television news interviews of Mr Banerjee along with L.A. Times articles featuring him as the owner and creator of Chippendales. In fact, we went through 3 pages of Los Angeles Times archive material from the 1980's and not only was Mr Banerjee's name written multiple times as being the Chippendales founder and owner, we could only find one reference to Mr Nahin on February 12, 1985, Los Angeles Times as the representing attorney for owner Steve Banerjee. Even the FBI targeted only Mr Banerjee as the Chippendales owner in a multi-year RICO murder investigation.
Nahin Claims Authorship Without Proof
Mr Nahin also asserts he was the impetus behind the name "Chippendales" by pointing to a Chippendale chair in Banerjee's desperate confusion to find a name to replace Destiny II. Yet in a 1986 video interview Mr Banerjee said he came up with the name because he "liked the sound". Mr Nahin did not make this creative claim until recently because it was also missing from his 1998 film interview. Other Chippendales employees refute Mr Nahin's revision.
Is Nahin Really "Higgins"?
We asked former Chippendales model Dan Peterson about Bruce Nahin and his claim. "I didn't even know who Nahin was. And I knew Steve really well. We were close friends. I can tell you 1000% Banerjee was the owner and founder of Chippendales. It was Steve's idea. His dream. I think what Nahin is doing is wrong. It's like saying "Magnum PI" wasn't about the Tom Selleck character but about Higgins. It's nonsense. Banerjee worked too hard not to be given full credit for what he built."
Nahin Creates Fake Producer Credit
On a tip, we discovered that Mr Nahin was ripping off a production title by posting a fake producer credit for the Chippendales film, "Tall, Dark & Handsome". Here is the IMDb listing where Mr Nahin lists himself as a producer. The credit for Mr Nahin does not exist in the actual billing block of the film's video sleeve or in the film itself. We asked some people associated with this film about Nahin's involvement in the production. The answer was "None. Nahin's office just reviewed the contracts. And it wasn't even him. It was his paralegal." Mr Nahin was just an outside lawyer working miles away from the Chippendales offices.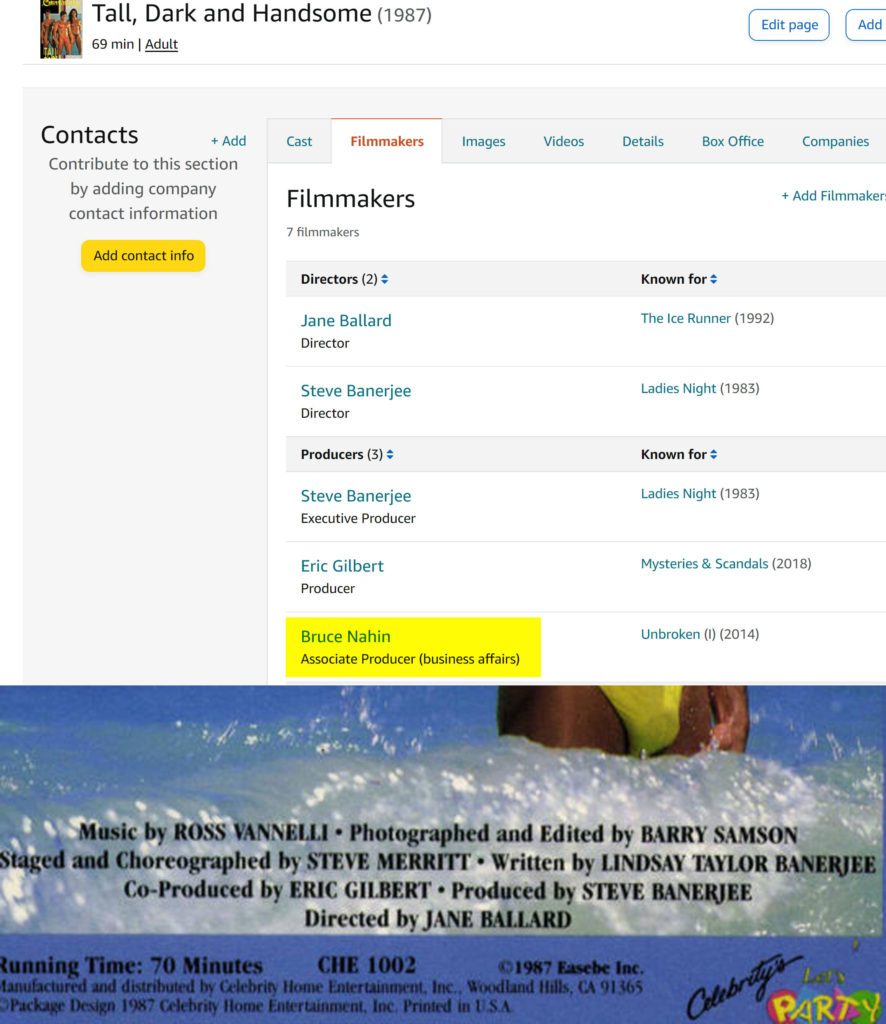 "I Don't Believe Nahin"
Press accounts from the time reaffirm Mr Banerjee's ownership and recognition as creator and founder of Chippendales. When we asked Mr Banerjee's son, Christian Banerjee now a male stripper himself and President of Strippendales about Mr Nahin's claim to being the Chippendales co-founder. He said, "I don't believe anything Bruce says. My dad, Steve Banerjee, was the founder of Chippendales."
The Real Chippendales Founder Dies in Prison
On October 24, 1994, Mr Banerjee died in downtown Federal prison in Los Angeles. The Los Angeles Times headlined Mr Banerjee as "founder" of the iconic strip club. Clearly that fact was already established well before Mr Nahin's revisionist claims. New York state court documents, state of California documents (3)(5), media reports (1) in the 80's, and eyewitness employees like Chippendales ex-employee Bob Green, Chippendales model Dan Peterson and bookkeeper Minh Vu all reaffirm Steve Banerjee as the sole owner, founder and creator of the Chippendales brand.
Digital Gold Rush
The need for true crime stories from Apple, Hulu, Netflix and Amazon has many competing for the digital gold rush. Steve Banerjee's murder story is one of the FBI's most challenging cases. So being the center of that story would be worth some money. Was Mr Nahin trying to carve a role for himself to partake in the digital gold rush? We cannot be certain, but we welcome proof from Mr Nahin that he was co-founder of the original Chippendales. Until then we stand on the facts and await the next illusion.
Steve Banerjee deserves full credit for creating and founding this iconic brand even though he was a murderer. After all, nobody is perfect.
We would like to thank several people in the research of this article. Ms Minh Vu. Mr Dan Peterson, Mr Roy Sutton, and Mr Christian Banerjee. All documents were publicly accessible. Disclaimer: Although facts were researched as well as possible, this is a journalism project with an attempt to seek the truth in a fair manner. Because this is a 40 year old controversy we do not claim to know everything that has transpired. And, we welcome corrections via our website or email address. This article was revised on April 5, 2022 with the addition of more corroborating information.
(1) "Chippendale Club Owner Kills Himself"Los Angeles Times. 1994-10-25
(2) "Lawyer Gets 10 Years for Embezzling Millions"Los Angeles Times. 2004-1-30.
(3) "Easebe Enterprises"State of California ABC license. 1977-JAN
(4) wikipedia.com [publicly available information through website]
(5) "Easebe Enterprises"State of California Incorporation. 1996-JUL
(6) wikipedia.com [publicly available information through website]
(7) wikipedia.com [publicly available information through website]
(8) wikipedia.com [publicly available information through website. Wikipedia documents every record of every editor on every page for perpetuity. These records are available to the public. There are too many entries by Mr Nahin over a decade to log every one for this article. However we did review hundreds of entries going back to 2007 and found Mr Nahin's account under Bruce.nahin and "meatpuppets" or "sock puppets" using IP 76.173.115.10 and mobile IPs and NNahin. You can click the link and review yourself.]
(9) California BAR 2001 "Resignation with charges pending 00-Q-14743 "
(10) "D.A. Gets Tough on Corrupt Attorneys"Los Angeles Times. 2003-11-10
(11) Bruce Nahin Attorney BAR discipline avvo.com. 2001-JAN
(12) wikipedia.com [publicly available information through website]
CORRECTION: In the article we incorrectly stated that Mr Nahin had no newspaper references during the period of time that Chippendales was in operation. This was incorrect. There was a Los Angeles Times article dated February 12, 1985 featuring Mr Nahin as the Chippendales attorney in a discrimination lawsuit. Still, there was no mention of Mr Nahin being a Chippendales owner or partner. However the correction was made to the article because we strive for accuracy and fairness.
And at the end of this story we printed Mr Nahin's rebuttal to the points mentioned in the article. Mr Nahin's rebuittal is also published on a separate page. Click this link.